FFP 2 mask inspection with the EyeVision software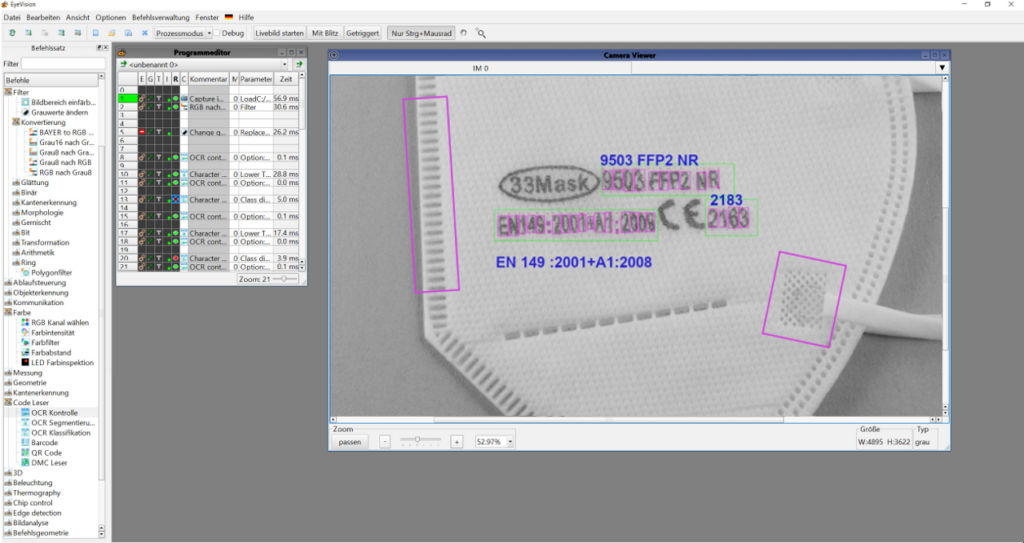 By integrating the image processing software EyeVision, medical mouth- and nose coverings can be checked for their quality. This enables precise compliance with the desired safety standards and prevents disruptions within the production line.
The system is autonomous, fully configured and can therefore be used immediately. The innovative EyeVision software guarantees a precise, error-free and fast inspection of the protective masks.
The software uses thermography to check the adhesive dots and seals, for example the rubber baths for attaching the mask to the ears. In addition, the Optical Character Recognition command (OCR command) of the EyeVision software can be used to inspect the printed text and number on the masks for correctness and legibility. At the same time, the attachment of the metal nosepiece is checked so that it does not damage the machines on the production line if it is incorrectly attached. EyeVision not only inspects the mask, but also its packaging through thermography. The image processing software can prevent contamination of the medical product by inspecting the weld seam of the plastic packaging.