About Allviss
Construction
In action
About Allviss
The Allviss assistance system is a digital helper for every manual workstation!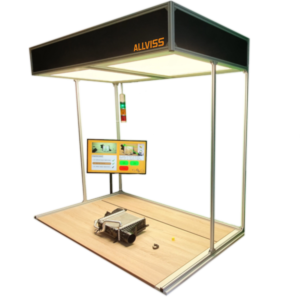 Production processes will face ever new challenges in the future: In the age of digitization, products have ever shorter life cycles with an increasing variety of variants. At the same time, ever higher quality requirements are being made, often in connection with short-term and individual customer requests.
Allviss was specially developed for manual workstations and uses powerful AI to ensure that adaptation to new work processes or components is quick and easy. 
Allviss supports the employees by visualizing the work steps. The instructions for the respective work steps are displayed at any time during assembly. This is particularly helpful in the case of a high number of variants or when training new employees.
It automatically recognizes which work step is currently being carried out and whether it was carried out correctly. This enables "zero defects" production and at the same time relieves the employees.
In addition to the integrated PLC for controlling the workstation, Allviss also has many other optional interfaces such as Profinet, Modbus, but also OPC UA and MQTT to integrate the manual workstation into a SCADA system.
Overview of Allviss: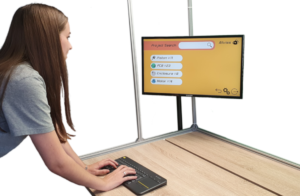 Allviss recognizes which component is involved.

Allviss shows the employee the component.

Allviss shows on the display step by step which work steps have to be completed.

Allviss supports the worker and reports success if the component has been installed correctly.

Allviss ensures that all work steps have been carried out in the correct order.

Allviss works with the powerful EyeVision software and can therefore also recognize colors and codes.
Construction
In action