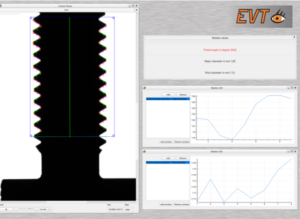 Applications:
Thread testing (outside & inside)
Features:
Checking the thread pitch and diameter (internal & external) Checking for completeness and dimensional accuracy Checking the course of the thread Detection of errors & contamination.
This EyeVision software command performs analyzes on external and internal threads. It segments each thread into several sections and then checks the major, minor and pitch diameter for errors. In addition, the highest crest and lowest nadir information can be used for further inspections. To try out the "Thread check" command, open this project in the EyeVision test version. To do this, log in to our log in area and look under projects for 2D image processing examples.