BlueTechnix Time-of-Flight 3D sensor Support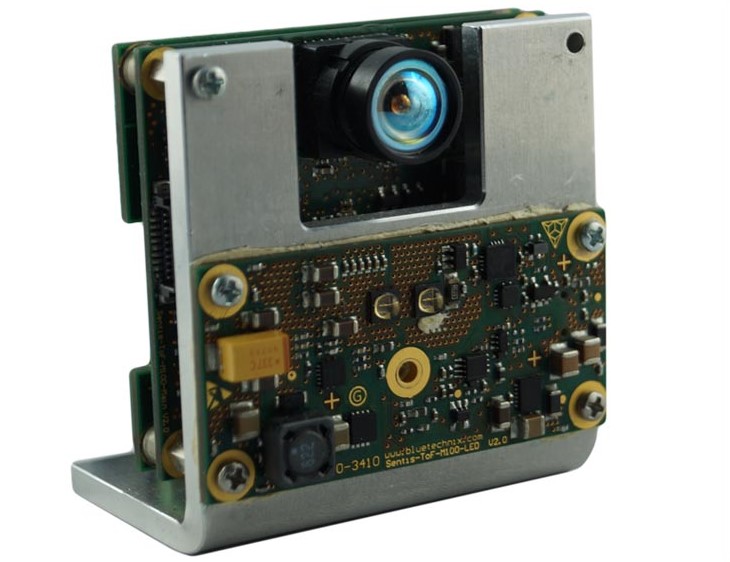 The EyeVision 3D Software supports the Time-of-Flight 3D sensor by BlueTechnix (Become).
Therefore volume measurements, work space surveillance, 3D-object detection and other applications can be carried out. An important application is also the automatic loading and unloading of boxes from palettes with a robot.
How does 3D Time-of-Flight (TOF) work?
TOF cameras use a technic simillar to radar and are used in the industrial environment more and more often. The integrated illumination sends infrared impluses and the sensor measures the time, which it takes to reflect back the light.
Technical Data BlueTechnix Time-of-Flight
| | |
| --- | --- |
| 3D Technology | PMD Time-of-Flight (19k-S3) |
| Resolution | 160 x 120 px |
| DSP | BF561 (2 x 500 MHz) |
| RAM | 32 Mbyte SD-RAM |
| FLASH | up to 64 Mbyte NOR |
| Frame rate | 40 fps |
| Measurement range | 3 m – 5 m |
| LED | 2 x 850 nm |
| Power supply | 24 V @ 0.7 A |
| Ethernet | 10/100 Mbit |
| Interfaces | RS232, RS485, Ethernet |
| GPIO | 3 |
| Trigger Input | 1 |
| Operating temperature | -40 bis + 85 °C |
| Cooling | Passive |
| Dimensions (BxHxT) | 60 x 60 x 40 mm |