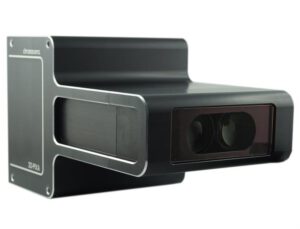 The EyeVision 3D software supports the Chromasens 3DPIXA.
The 3DPIXA stereo camera is a combination of line scan technology with fast stereo algorithms running on GPU. Providing 3D data and 2D color images simultaneously opens up combined 2D and 3D inspection.
Typical Applications for Chromasens 3DPIXA
Fast inline height measurement
Completeness check in 2D and 3D
Verification of 2D and 3D dimensions
Identifying micron defects
Combined 3D and 2D color inspection
3D web inspection
How does 3D stereo vision work?
The stereo image processing uses the same principal as the human eye, the stereoscopic offset. As only two cameras are necessary, the stereo image processing relies on the capture of identical characteristics from both cameras. But because an object does not always have special characteristics, often a random pattern projection is used.
Technical Data of Chromasens 3DPIXA
| | |
| --- | --- |
| Optical Resolution | 8 µm/ Pixel |
| Field of View | 8 mm |
| Number of pixel | 4500 |
| Height resolution | 2,25 µm |
| Height range | 1,32 mm |
| Free working distance | 155 mm |
| Maximum speed | 147 mm/s |
| Line frequency | 18,4 kHz |
| Camera | Stereo camera with lenses |
| Sensor | Quad-linear CMOS Zeilensensor (RGB) |
| Active pixel size | 5,6 µm x 5,6 µm |
| Interfaces | Camera Link Base/Medium/Full, External I/O, RS232 |
| Power supply | 24 V DC +/- 10% 16 W |
| Dimensions (LxBxH) | 228 x 100 x 114 mm |