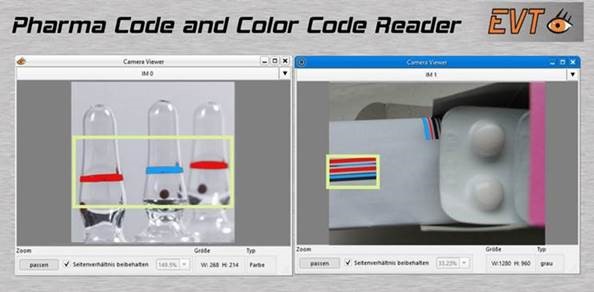 Within the pharmaceutical industry, the documentation and traceability of products is very important and required by law. In addition to OCR codes, barcodes and DMC codes, pharma codes and color ring codes are also used so that products can be clearly identified at any time.
These two codes are either a single or multicolored print similar to a barcode or a code made up of several rings.
The EyeVision software enables the exact recognition of colors and color nuances in real time. The software assigns the recognized codes to a product. This is done very easily, without programming. This evaluation is very easy to implement with the powerful EyeVision color commands. The camera with which the task is to be carried out can be freely selected and the ideally suited camera can be used for the respective task.
Due to the simple integration using various interfaces such as Profinet, Modbus, OPC UA, MQTT, remote control, remote control and the transfer of the results to higher-level systems, such as a database, is possible.
EVT's EyeVision vision software and specialized hardware prevent this by inspecting the packaging, seal and barcode. The advantages of EyeVision within the pharmaceutical industry:
ensure the safety and integrity of the packaging
ensure consumer protection
prevent product counterfeiting
protect the brand and increase recall efficiency