SIMPLE. FLEXIBLE. INDIVIDUAL.
YOUR OWN USER INTERFACE, AS REQUESTED.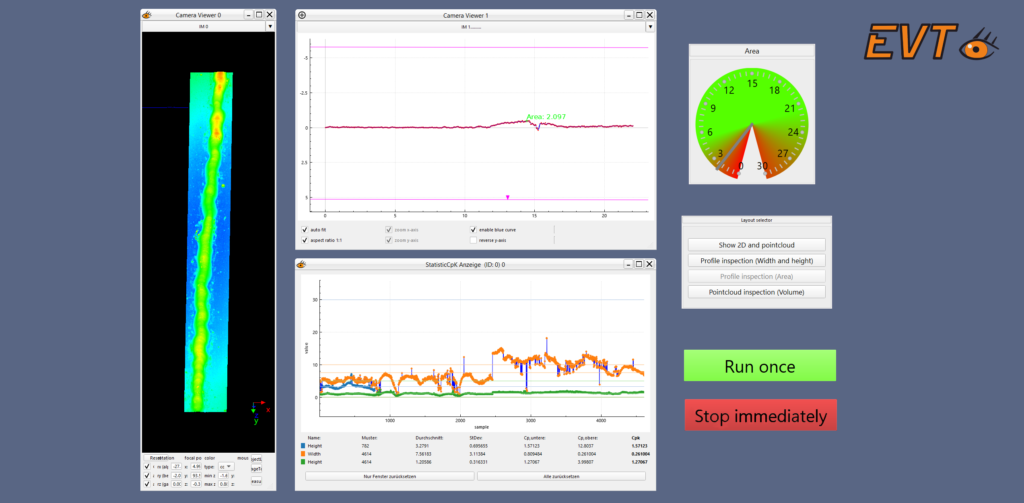 EVT provides with the image processing software EyeVision a versatile tool for the realization of image processing tasks. Whether 1D, 2D or 3D applications, EyeVison always provides a large number of tools to realize any imaginable application. 
Where classical image processing reaches its limits, it is possible to seamlessly switch to AI or Deep Learning within the software.
Ultimately, the acceptance of an image processing solution by the end user always depends on an intuitive and easy-to-use user interface. EVT has made the creation of an end user GUI (Graphical User Interface) much easier and more flexible with the latest version of EyeVision.
The GUI Designer was developed for this purpose. Predefined buttons, result and statistic displays, camera images or "only" a simple good/bad signalization are tools with which the user can create his individual user interface very quickly. Of course, input fields can also be defined.
By integrating company-specific logos or designs, the appearance of the user interface can be adapted to the corporate design of the end customer. The result is a user interface that meets the wishes and requirements of the customer and ensures user acceptance.